1-On-1 Executive Coaching
Top Performers All Have An Expert To Guide Them Toward Success
SCHEDULE A CALL
Are you an executive, manager or business owner struggling in your marriage or personal life?
Have you devoted most of your life to work and family and now feel stuck and regretful?
Do you want to know how to maximize your marriage or life and become the best version of yourself?
We offer personalized executive coaching to help you transform your life and achieve success in all areas. Our founder, Josh, has spent the past eight years working with business leaders, actors, and musicians to help them create sweeping changes in their lives. His coaching has been featured on CBS and top podcasts, and he has helped men from all walks of life reach their goals.
With one-on-one coaching, you'll have the opportunity to work with Josh or one of our certified coaches for a period of three to six months, depending on your needs. Our coaching model utilizes advanced techniques that have been tested thousands of times to promote our clients' rapid growth. We use a combination of CBT, NLP, Strategic and Narrative therapy principles to guide you step-by-step toward your goals. Whether you're looking to improve your marriage, increase your impact on the world, or find more inner peace and confidence, we have the tools and expertise to help you get there.
PERSONALIZED STEP-BY-STEP STRATEGY & ACTION STEPS
Whether you're trying to save your marriage or reach certain business or personal goals, we have been there and know what it takes. As a busy professional, instead of vague answers or trial and error, we will show you exactly what you need to do to achieve those goals. That way, instead of wasting time trying things on your own, you have an executive coach guiding you what to do step-by-step to achieve your goals in the shortest time possible.
A majority of men fail in their goals because they don't have consequences for not achieving them or someone holding them accountable to their decisions and goals. This leaves you settling in the status quo of life. We ensure you will become that man through accountability.
Your results in life come from your actions. And, those actions stem from the way you see the world around you. Coaching allows you to put on a new lens of reality, and with this fresh perspective, new beliefs and habits are formed. Over time, these habits transform your life.
Research has revealed that the pursuit of goals, rather than achieving them, is the key to true happiness. With the guidance and support of an expert, you can set and work towards your aspirations, which leads to the emergence of genuine self-esteem. This heightened level of self-confidence empowers you to inspire and motivate others in your life to reach their full potential.
What you get by achieving your goals is not as important as what you become by achieving your goals
PROGRAM SUMMARY
Our proven process has four steps to create this transformation:
We set clear and ambitious goals that might seem difficult to achieve, but, with our systems they become attainable
We identify the limiting beliefs that have held you back from your goals through self-sabotaging behavior. If there was no self-sabotage, then we identify the habits or patterns that have held you back grom success.
The third step is to give you 'actionable' tools and set daily habits to achieve those goals rapidly.
We guide you day by day to ensure you stay on track.
Josh Hudson is a Licensed Marriage and Family Therapist (LMFT) who has spent thousands of hours helping men save their marriages. Josh scoured the world learning from the best mentors and masters of behavioral change. He has accumulated the most efficient practices into a modality that helps turn around marriages that are on the brink of divorce.
His new modality has been sought out by top experts and news experts to educate on how to save marriages and how to thrive in a modern marriage by helping men become masculine leaders in their relationships.
Greg is a Harvard-trained development psychologist and coach who has helped hundreds of clients reach their ambitious goals with improving their relationship and work. With his methods founded in Robert Kegan's Immunity to Change coaching method, he empowers clients by equipping them with the right tools needed to make adaptive changes for the rest of their life.
Greg takes a solutions-oriented, empathic approach in helping clients attain deep, meaningful, and loving marriage as they level up their emotional intelligence, interpersonal communication, and negotiation skills.
Rock earned his credentials in personal and organizational coaching with the International Coaching Federation. Over the last decade he's coached individuals, couples, and groups. His diverse professional background paired with a direct and intuitive nature enables him to fulfill his mission to help as many men win in life and relationships.
Rock is a master in catalyzing others to develop the awareness and skills to get them from where they are to beyond where they even believed they could go. Rock's clients appreciate his compassionate candor and non-judgmental (but no-nonsense) partnership which empowers them to practice extreme ownership, reclaim their personal power, and create the incredible life experiences they are meant to have.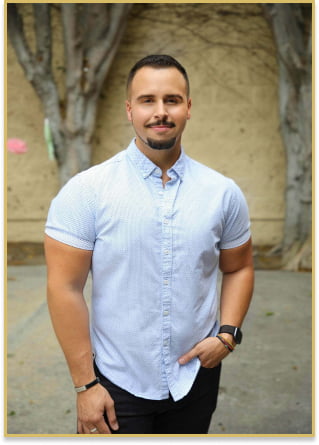 This coaching is only for men who want the best service and are committed to changing their lives. Contact us to learn more about our executive coaching program if you're ready to take control of your future and achieve the success you deserve.
WHAT RESULTS COACHING CLIENTS ARE SAYING
Charles, Lawyer
Coaching is that extra inch that makes you succeed in every area. I show up one percent better each day. It has caused me to double my results in relationships, business and life.
Jimi Varner, Business Owner
It's so easy to just go 'with the flow' in life and lead toward mediocrity. Coaching wakes you up to your full potential and puts pressure on you to develop into the man you are meant to be.